Voted Best List Broker of 2020 by Business.com
What is a List Broker?
List Brokers are companies that provide targeted prospecting lists to people who want to launch marketing campaigns.
So, if you want to send a promotional mailing to boost sales and get new customers, a list broker can help you find the right list of prospects to promote your business.
" List Brokers work on behalf of their clients to find the best lists that reach their clients' desired target audience in which to promote/advertise their product or service, and coordinates the procurement process. "

Wikipedia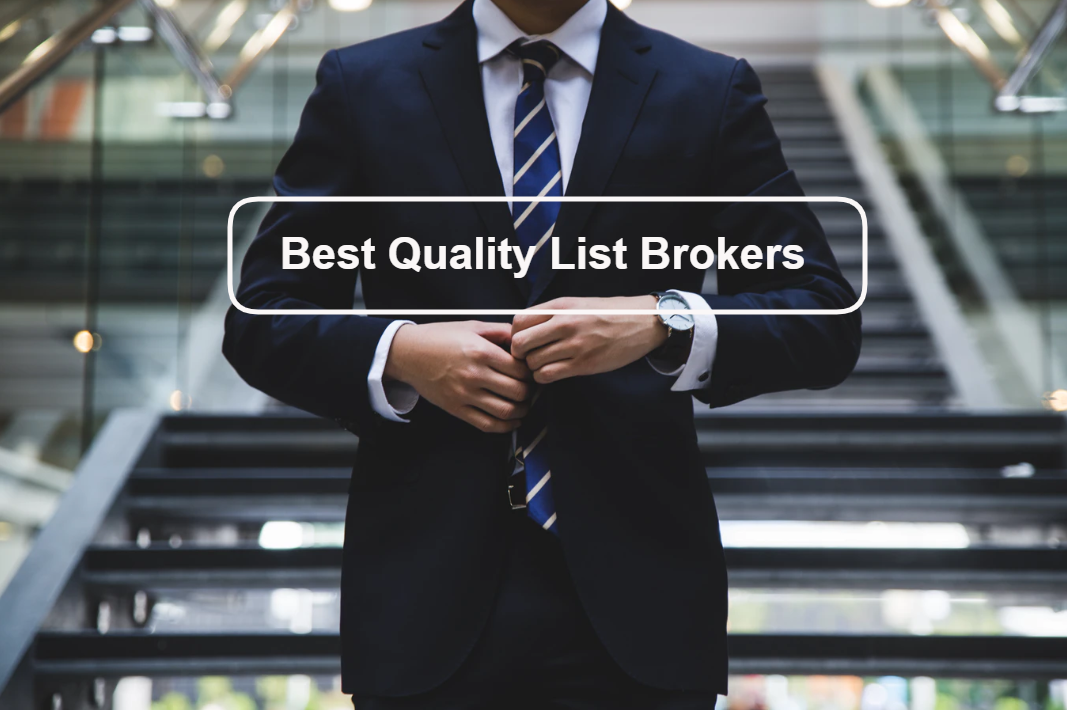 Who's the Best List Broker Service?
According to Business.com's recent article "The Best List Broker Services of 2020", LeadsPlease was voted the "Best List Broker Service Overall".
"LeadsPlease is our choice for the best overall list broker because it sells highly accurate postal and email lists for both Consumer households and Businesses…All at some of the most competitive pricing we uncovered in our research."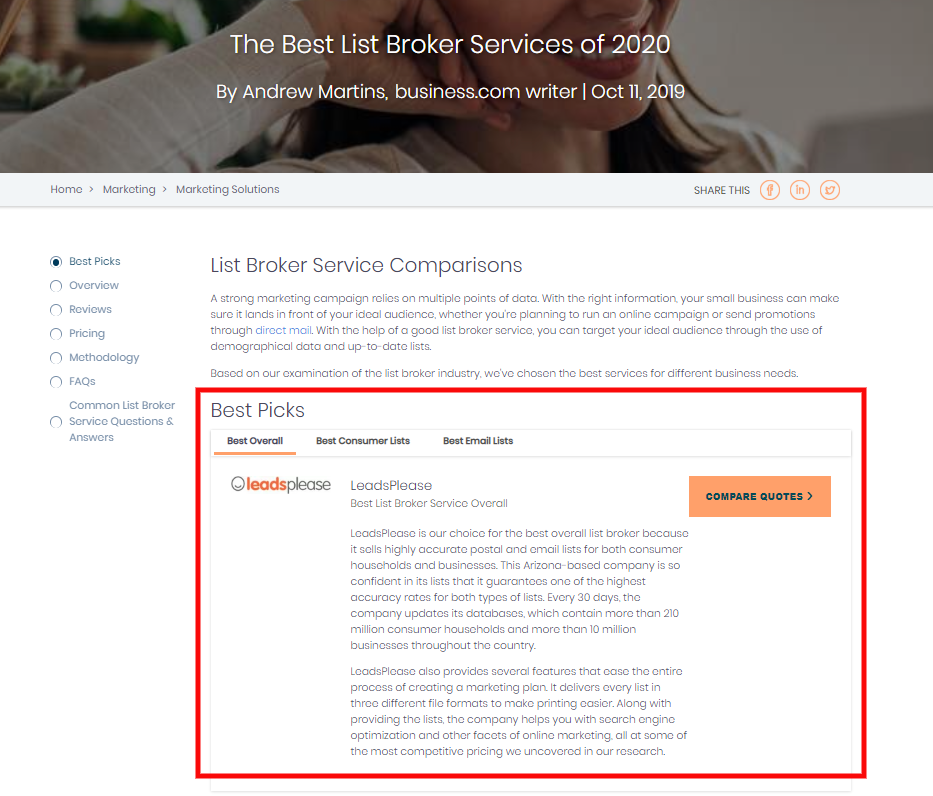 How Much Does it Cost to Get a List?
List costs vary depending on the type of list you need, and how many records you choose to buy.
Why Use a List Broker?
If you want to grow your business and send an advertisement to potential new customers, you'll need a good List Broker to help you.
List Brokers help clients connect with new customers quickly via a direct mail, telemarketing or email list.
Good List Brokers help you identify the right marketing list for your specific target market.
A List Broker can provide a list of all Consumers or Businesses in a particular area, or narrow down and target specific types of people/businesses based on demographics (ex. Age, Income, Gender etc) and firmographics (ex. Annual Sales, Number of Employees etc).
What types of Lists do List Brokers sell?
List Brokers generally sell one or more of the following types of lists:
Direct Mailing Lists
Telemarketing Phone Lists
What does a list look like?
Most mailing lists come in a spreadsheet format (excel/csv).
LeadsPlease offers 3 easy-to-use List Formats.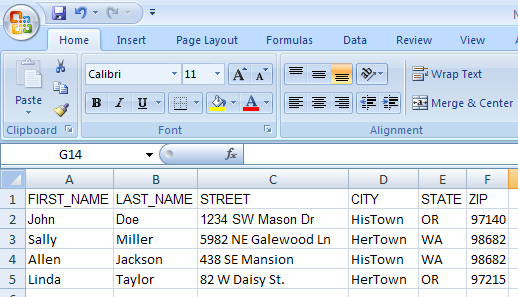 What makes a good List Broker?
A good List Broker, is a company that you can trust, that provides accurate lists at an affordable price.
A good List Broker should offer all of the following :
A+ BBB Rating
Accurate, up-to-date lists
Affordable Lists
Low Minimums
Expert Marketing Advice
Superb Customer Service
8 Questions you should ask a List Broker:
What type of lists do you sell? LeadsPlease offers Consumer, Business, New Homeowner and New Mover lists. We offer direct Mailing Lists for direct mail campaigns, and Email Lists for email marketing. 
How often do you update your lists? The USPS recommends that mailing addresses should be updated every 90 days. LeadsPlease lists are updated every 30 days! You can read more about our list cleansing processes on our Data Quality page.
How accurate are your lists? LeadsPlease Consumer Mailing Lists are 95+% accurate and Business Mailing Lists are 90+% accurate. 
How much do your lists cost? Click here for LeadsPlease Mailing Lists Pricing, and LeadsPlease Email List Pricing.
Do you guarantee the accuracy of your lists? Yes!  LeadsPlease does guarantee the quality of our lists, so customers can rest assure that they are getting quality, up-to-date lists. You can read more about our Guarantee on our Data Quality page.
Can you send me a sample list before I place an order? LeadsPlease does offer sample mailing lists! Contact us to request a sample mailing list. 
Do you offer design and sending services for direct mailers and email marketing campaigns?  Yes! LeadsPlease offers design, Direct Mail printing & mailing, and Email Marketing services. 
Can we help you?
Call us on 866 306 8674
for free expert assistance.
Or try our
It's 5:27pm in Phoenix & we're in the office!