Mailing List API
The DataWidget is a List API, that allows you & your business to seamlessly integrate mailing lists into your website and start selling lists online via your web-to-print application.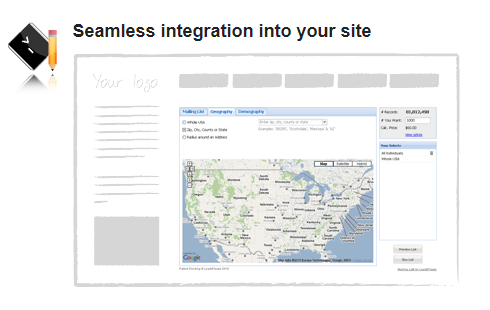 What does the DataWidget do?
The DataWidget enables your users to buy targeted direct mailing lists via your website, in real time. It provides fast, real time counts and is the easiest mailing list prospecting tool available.
Consequently, you will sell more lists with your printed products when you use the DataWidget.
What Businesses Use the DataWidget?
Printers, Franchises, Dealers, Mortgage Brokers, Insurance companies, Home Services, Restaurants and Marketing companies all love the DataWidget,
So, any business that has a web-to-direct-mail website can benefit from embedding our List API into their site.
Make Instant Margins
Lists are sold through your ecommerce website at your retail prices and purchased from us at wholesale prices. So after you embed the DataWidget into your website, you can instantly start making money from data sales.
Zero Setup Costs
The DataWidget is free to install , with no contracts and no commitments.
Flexibility
We offer 100's of millions of rows of top-quality Consumer and Business data, so your Users can rest assured that they are purchasing accurate, up to date lists.
Furthermore, if you want to use a different database, that's no problem. You can add specialty databases quickly and easily with the DataWidget and can switch on and off 100's of demographics.
There's also a DataWidget with Checkout.
Fast and Easy to Use
Usability is a top priority, so Users love the DataWidget because it's fast and easy to refine counts and do research in real-time. Our Clietns love us because they sell more mailing lists with the DataWidget and make more money.
Can we help you?
Call us on 866 306 8674
for free expert assistance.
Or try our
It's 5:27pm in Phoenix & we're in the office!