New Mover Email Lists [2023]
A New Mover Email List can help Churches, Restaurants and other local Businesses connect with New Movers in their area, quickly and affordably using targeted Email Marketing.
Grow your business, beat your competition, and be first to reach New Movers in your area and turn them into new long-term customers.
Only trust the best; Voted Best List Broker service by Business.com
What is a 'New Mover'?
A New Mover is someone who has moved homes in the last 12 months. New Movers include both Renters and Homeowners.
What is a New Mover Email List?
A new resident mailing list is a marketing list of people who have recently moved home.
The list includes the New Mover's First and Last Name, their physical mailing address and their email address. Our Lists have both the mailing address and the email address for each mover, so you can perform targeted direct mail and email marketing.

How many New Movers are in your New Movers database?
207,564 New Movers have moved into a new Home in the Last Week. Here are the Top 10 States for New Movers:
| Top 10 States | # New Movers since 09/12/2023 |
| --- | --- |
| CA | 24,250 |
| TX | 23,744 |
| FL | 12,175 |
| NY | 9,782 |
| NC | 9,241 |
| WA | 7,969 |
| AZ | 7,447 |
| CO | 7,232 |
| PA | 7,072 |
| MA | 6,236 |
| TOTAL | 115,148 |
How often are the New Mover Email Lists updated?
Our new resident mail lists are updated daily, as new moves occur.
We also update our database every 7 days and every 30 days using USPS approved CASS, DPV and NCOA address verification software.
The email addresses are updated frequently throughout the year, and a final time at the point of sale. So, that means, you get the most up to date and valid email addresses possible.
How accurate are the New Mover Email Lists?
We take great pride and care in maintaining the quality of our data, as it is the core of our business.
Our New Mover Email Lists are routinely updated throughout the year, as new information becomes available. During these updates, old email addresses get updated or removed and new, valid email addresses get added.
We also perform one final list cleansing at the time you purchase your email list. This final email address verification process validates all the email addresses on your email data list. So, after this validation process, your list is as accurate as possible, resulting in higher conversion rates and less unsubscribes.
Although we go to great lengths to frequently clean and update our databases, they will always contain a small number of undeliverable mailing addresses & emails, aliases, out of date information and data errors that are beyond our control.
On average, you can expect to receive the following accuracy rates:
New Mover Mailing Address & Demographics – 95+%
New Mover Email Address – 90+%
Can I select how recently the New Movers have moved?
Yes! You can choose to target all New Movers who have moved in the past 1 year in your area, or you can narrow down to people who moved within a certain date range:
7 Days
30 Days
60 Days
90 Days
120 Days
180 Days
1 Year
or set a Custom Date Range
Can I get a New Mover Email List for my area?
Yes! You can get a list of New Movers by zip code, city, county or state, or you can target people who live in a certain number of miles from your Church or Business.
You can build and buy your New Mover Mailing List on our website by clicking on the button below. We accept all major Credit Cards.
Or, if you prefer, feel free to call us and a List Expert will assist you over the phone.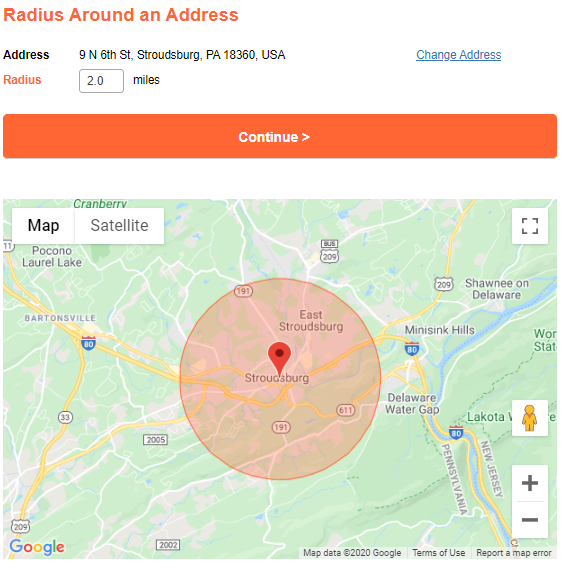 Why should I buy a New Mover Email List?
According to Realtor.com New Movers spend more money on local services and home contractors in their 1st year, than any other year.
New Movers are eager to get settled in and make their new home as comfortable as possible.
So, if your business can help them get settled in more quickly, they'll want to hear from you. Start marketing to New Movers near you, and you could gain a new, loyal customer !
What types of Businesses can benefit from marketing to New Movers?
New Movers want to hear from their new community, neighborhood Churches & local businesses.
New Resident Mail Lists are most popular with the following Organizations and Businesses:
Furniture Stores
Home Decorating Stores
Home Improvement
Cleaning Services
Handymen
Child Care Services
Gyms
Yoga Classes
Gardeners
Painters
Can I add other demographics to my List?
Yes! After you select the geographical area / location that you'd like to target, the next step is adding Demographics selections.
If you want 'All' New Movers you would skip this step and click Continue.
If you do want a more targeted list, you can add one or more of the following demographic selects:
Age
Change in Dwelling Type
Change in Region
Dwelling Type
Gender
Household Income
Move Distance (Distance of Move)
Recency of the Move
Value of the Home
Year the Home was Built
Presence of Children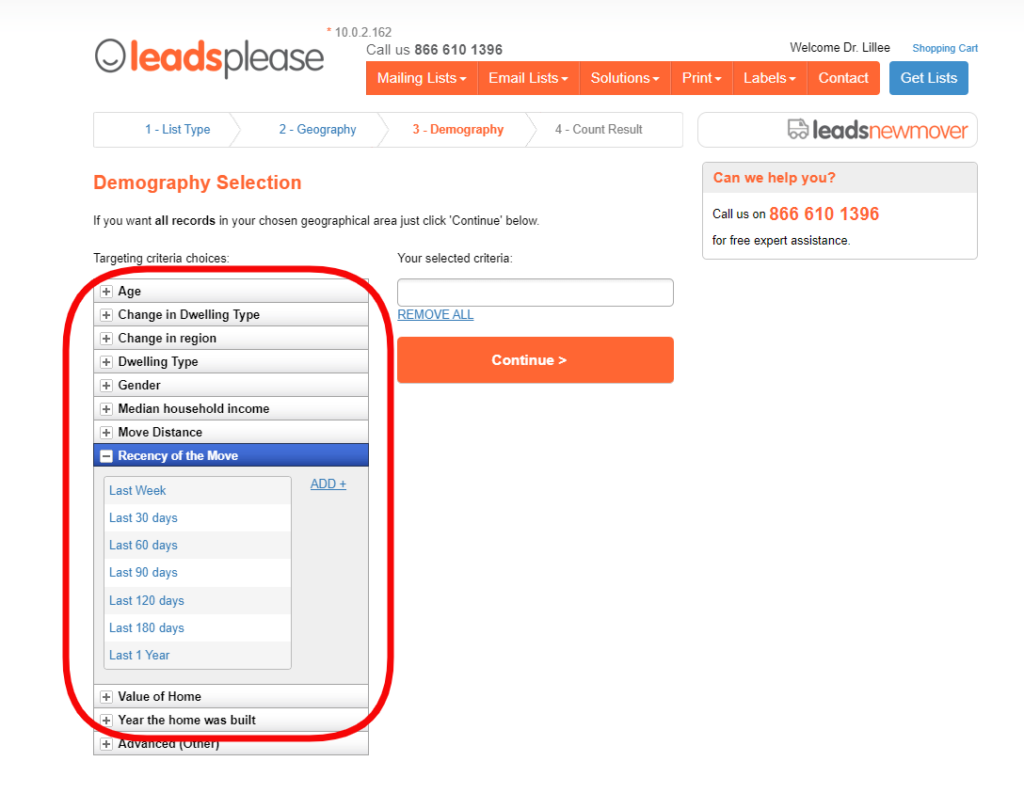 Can I add Phone Numbers to my list?
Yes! We can add Phone Numbers to a list. Please Contact Us for more information and Pricing.
Can you help me Print + Mail my New Mover Direct Mailers?
Yes! Need help with your Direct Mail New Mover Marketing? We've got you covered. Save time and let us print and mail your customized direct mail marketing piece for you. We offer full direct mail and mailing services and a variety of mailers, including Postcards, Flyers and Tri-Fold Brochures.
See All My Direct Mail Options
Should I use a professional Email Marketing Service to send out my emails?
Yes! We strongly recommend using a professional email marketing service to deploy your emails.
These are some of the top reasons for using a professional email deployment service to send out your email campaigns:
Professional Templates: Use professionally designed email templates that deliver better results
Email Content: Increase readership with recommended content
Integrations: Use helpful integrations to improve success
Email Metrics Reports: Track your email marketing efforts easily with email metrics reports that display important results like click-throughs, website visitors, and bounces etc
Tried and Tested Subject Lines: through a/b testing email services track the best Subject Lines and make recommendations. Take advantage of these suggestions, and boost your Open Rates with great ones.
Powerful CTA: The CTA (Call to Action) in your email is one of the most important elements. Follow a well designed email template and CTA, and watch your goals soar.
Reputable IP : Professional email deployment services have much more reputable IP addresses, than personal email accounts, like Yahoo, Hotmail, Gmail etc. This means that more of your emails will hit your customers' inboxes, and you'll experience a more successful campaign when you use a professional service.
However, some email services allow you to send bulk emails to third party contact lists, some do not.
Please contact your email service directly if you have questions regarding their bulk email deployment rules.
I'd like to learn more about email marketing and email marketing best practices – can you help me?
Yes! Please Contact Us to request a copy of the LeadsPlease Email Marketing Guide, which includes tips and information about email marketing and best email marketing practices.
What format is the list in?
The New Mover Mailing Lists come in 3 easy-to-use List Formats:
Excel file format
PDF Label Format
Printed Peel & Stick Mailing Labels Shipped to You
Why Should I Buy a LeadsPlease List?
Not all data sources are the same. Only trust the Best! LeadsPlease was voted the Best List Broker Overall by Business.com for the last 4 years in a row!
LeadsPlease
New Mover Lists
You Win
Voted "The Best
List Broker
Service"
Only trust the Best! Get your List from
Business.com's voted "Best List Broker"
95+% Accuracy 
Guarantee
Don't waste time & money on bad leads.
210+ Million Pros-pects in the USA
Find the right prospects using the largest database
3 easy-to-use list
formats
Don't worry; we guarantee that you'll be able to use your list or we'll give you your money back!
Instant Download
Save time; get your list in minutes
Happy Customers
1000's of Happy Customers use LeadsPlease to grow
their businesses. Start growing your business too!
How much does it cost to buy a New Mover Email List?
New Mover Email Lists start at $125.00 for 250 Leads.
| # RECORDS | PER RECORD | TOTAL |
| --- | --- | --- |
| 250 | 50c | $ 125.00 |
| 1000 | 40c | $ 400.00 |
| 5000 | 30c | $ 1,500.00 |
| 10000 | 25c | $ 2,500.00 |
| 25000 | 20c | $5,000.00 |
| 50000 | 18c | $ 9.000.00 |
New Mover Email Lists Pricing
Other Helpful Resources
Happy Customers Growing Their Businesses with LeadsPlease Email Lists
New Mover Email List FAQs
Does a new mover email list contain data for both renters and home owners?

Yes it does.

Where does new mover data come from?

Multiple sources including public record.

What is the difference between an new mover list and a new home owner list?

New movers are both renters and owners. New home owners are people who have purchased their homes.

Can you help me with my digital marketing?

Yes! Please Contact Us for more information regarding digital marketing.
Can we help you?
Call us on 866 306 8674
for free expert assistance.
Or try our
It's 5:27pm in Phoenix & we're in the office!