Restaurant Email Lists & Mailing Lists
Get Restaurant Email Lists & Mailing Lists and start marketing to Restaurant Owners and top decision makers at Restaurants across the USA.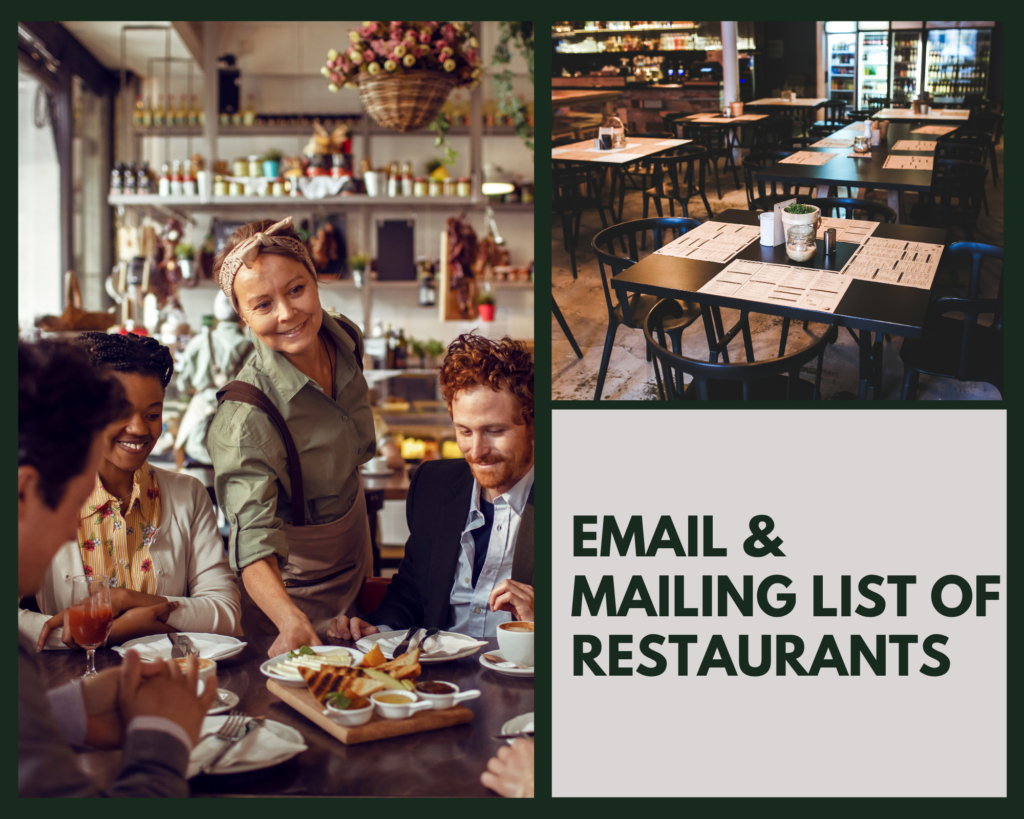 What are Restaurant Email Lists & Mailing Lists?
Restaurant Email Lists & Mailing Lists are marketing lists that includes the key Contact information (Name + Address etc) for people who Own or work at Restaurants in the USA.
What is included in your Restaurant Email Lists & Mailing Lists?
The following information is included in the list:
Restaurant's Name
Contact's Full Name (ex. Owner, Manager etc)
Telephone Number
Mailing Address
Email Address (where available)
URL
Employee Size
Annual Sales Volume
Chain / Not Chain
Franchise / Not Franchise
What types of Restaurants can I select?
| | |
| --- | --- |
| Fast Food | Pizza |
| Ethnic Food | Fast Food Chains |
| Family Dining | Cafes |
| Chinese | Sandwiches |
| Mexican | Coffee Shops |
| Ice Cream Parlors | American |
| BBQ | Italian |
| Seafood | Deli |
| Steak House | Japanese |
| Thai | Buffets |
| Sushi | Indian / Pakastani |
| Vietnamese | French |
| Korean | Cajun |
| Greek | Health Food |
| Spanish | + Many More |
Can I get a list of Small, Non-Franchise Restaurants?
Yes! We can help you get a list of Small, Non-Franchise Restaurants.
You can search for Restaurants that have a specific Employee Size, and Annual Sales Volume. So if you want to reach 'Small' Restaurants, you can select Restaurants that have 1-10 Employees and an Annual Sales Volume under $1 Million (for example).
If you want to omit Franchises and Chains, you can do that too!
Are you a Restaurant Owner looking to find new customers and boost sales?
If you are a Restaurant Owner and you're looking for new customers, we can help you!
Our Consumer Mailing Lists include the Names & Addresses of new prospective customers who live near your restaurant. You can target Consumers anywhere in the USA, and narrow down using demographics like Age, Income, Home Value, Interests & Hobbies etc.
Build and download a Consumer Mailing List online in minutes.
Will my List include Email Addresses?
You can choose to add Email Addresses to your List. We offer 3 List Options:
Direct Mail
Direct Mail + Email
Direct Mail + Email where available
For more information & pricing please visit our  Business Email Lists page.
How much does a Mailing List cost?
These types of Mailing Lists start at $99.75 for up to 500 leads. The more leads you buy, the cheaper the cost per lead. Please visit our Mailing List Pricing page for more information.
How do I get a Mailing List?
You can purchase your mailing list on our website or with a List Specialist over the phone. On average, it takes about 5 minutes to build and purchase a Mailing List.
Other Helpful Resources
Mailing List Of Restaurants FAQs
Can I filter out franchised restaurants?
Yes you can. There is a select on the demography page to exclude franchises.
Can I get an ethnic specific list of restaurants?
Yes you can. Once you have filtered by the geographic area you want to target continue to the Standard Industry Code (SIC) page where you can search for restaurants. There is a list to choose from. Select the ones you want and click 'add'.
Is there a way to choose only fast food restaurants and how can I be sure that I will get only fast food restaurants?
Yes you can filter by fast food restaurants and if you continue to the count result page you can preview your list. There will be 2 columns for SIC description. The first will identify the line item as a restaurant and the second will identify the fast food restaurant selection.
Can we help you?
Call us on 866 306 8674
for free expert assistance.
Or try our
It's 5:27pm in Phoenix & we're in the office!