How to Print Address Labels from Excel
This quick guide and video will show you how to print address labels from Excel, in less than 5 minutes.
It's quick and easy to print address labels in excel yourself!
Step 1 : Choose Your Address Labels
There are lots of different types of Address Labels to choose from. They differ in color, size and shape.
If you're looking for standard, white, peel & stick Address Labels (which look great on Postcards & Envelopes), we recommend using Avery 5160 Mailing Address Labels.
You can purchase Avery 5160 Address Labels online at Amazon or Walmart (to name a few) , or in your local stationary store.
Step 2 : Setup Your Address List in Excel
Once you've chosen your mailing address labels, the next step is to create labels in Excel.
Select your Address List
If you want to grow your business and send an advertisement to prospective new customers, you can Buy a Mailing List online in an Excel file format and then use that list to create mailing Labels from excel.
Or, you could create your own mailing address list, using the Names & Addresses of your current Contacts/Customers.
Regardless of if you purchase a mailing list, or if you create your own, your Mailing Address List in Excel must include correct Headers. So, before you print labels from excel, you must double-check your Headers and make sure they are all setup correctly.
Setup Correct Headers
When you open your List in Excel, the Headers are the description at the top of each column.
You need to make sure that there is a designated Column and Header for each item that you want displayed on your Labels.
Here are the most common items that are included on address labels from excel:
Title (Mr, Mrs, Doctor etc)
First Name
Last Name
Address
City
State
Zip code

Step 3 : Organize Your Labels in Word
Now that you've got your mailing address list ready, the next step is to organize your Labels in Word.
Open a new document in Words, then follow these steps:
Select 'Mailings' from the top navigation menu.
Select 'Start Mail Merge' > 'Labels'
Select 'Label Vendors' > 'Microsoft'
Select '30 Per Page'
Click 'Ok'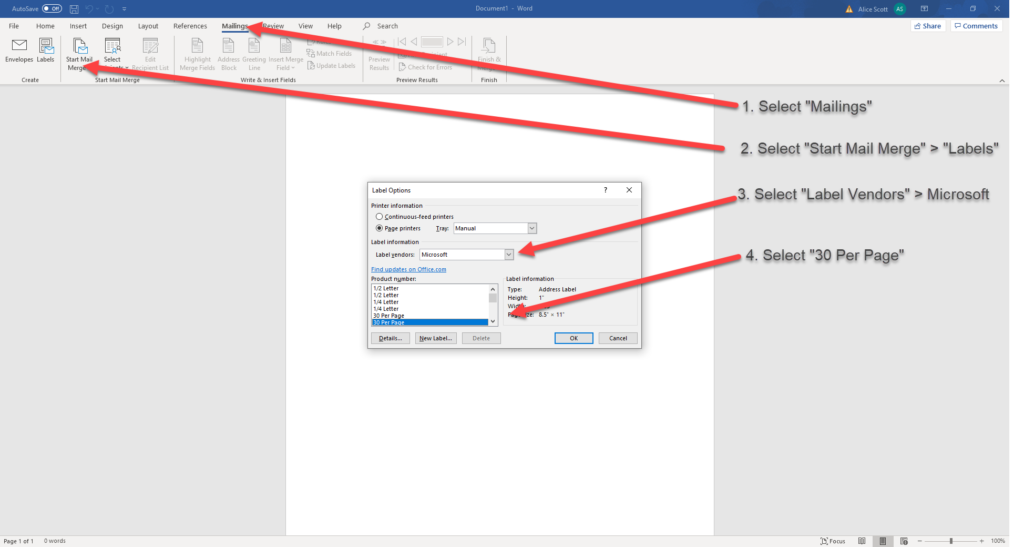 After you click 'Ok', you will see the first sheet of your blank Labels setup on the screen. It will look like this: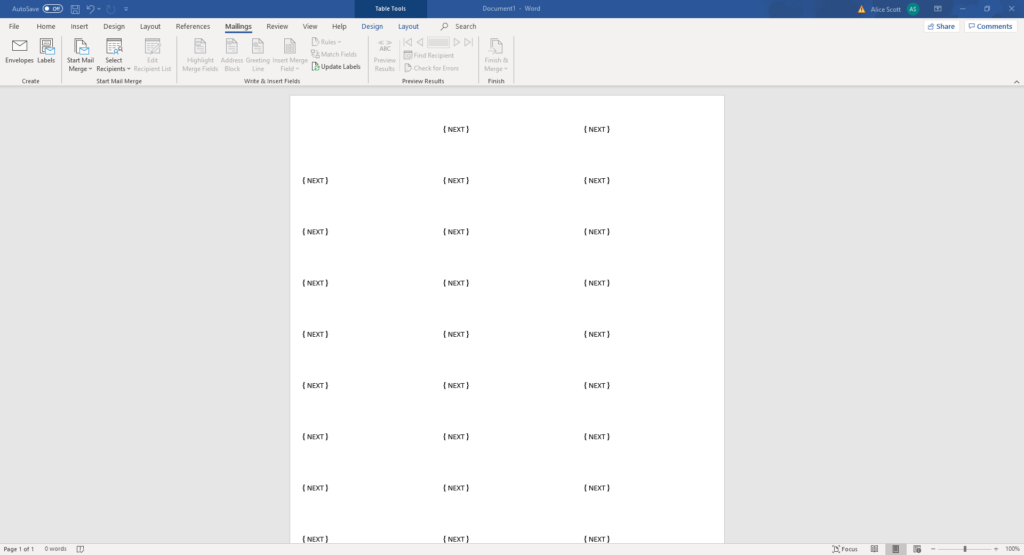 Step 4 : Perform a Mail Merge
Now that you've organized your Labels in Word, the next step is to setup and perform the mail merge. In this step, we will connect your List in Excel to your Labels in Word.
To start your Mail Merge, follow these steps:
Select 'Select Recipients' then > 'Use an Existing List'
Find the mailing address List that you want to use, then > 'Open'
Select 'Edit Recipient List'
Click 'Ok'
Selecting 'Edit Recipient List' is optional. But we recommend doing it, because it's a quick way for you to make sure that the correct List is now linked to your Labels.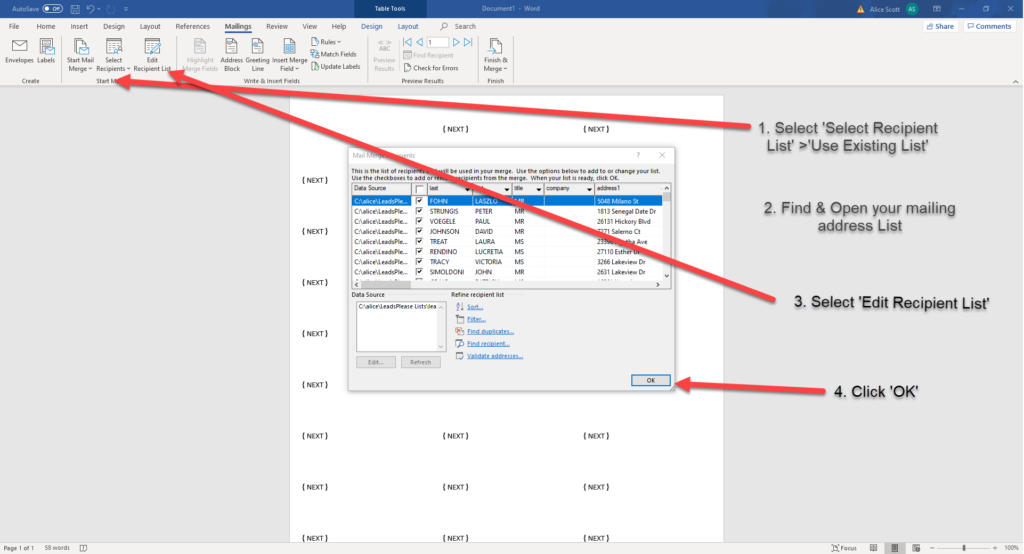 Insert Merge Fields
The next step is to tell Word which Fields/Headers you'd like to use from your List.
Place your cursor in the top left hand corner of the first Label, then Select 'Insert Merge Field'
Select 'First Name', then use your space bar to add a space
Select 'Last Name', then hit Enter to move to the next line of your Label
Select 'Address', then hit Enter again, to move down to the next line
Select 'City', then a add a comma
Select 'State' then another comma
Select 'Zip Code'
Update Labels
Once you've setup your first Label, then select 'Update Labels'. This will update all your other Labels so that they match the same format as your first Label.
Finish & Merge
The last step of the mail merge is to select 'Finish & Merge'. This last step will link your mailing address List with all your Labels.
After you select 'Finish & Merge', Word will open a new document, and you will see all your newly merged Labels!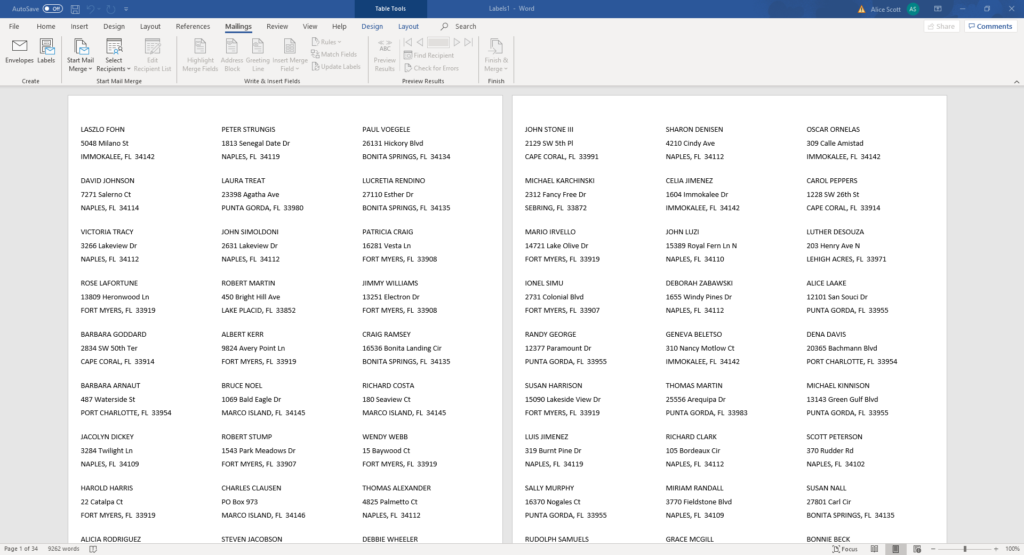 Step 5 : Print Your Address Labels from Excel!
Now that you've done your mail merge and your Labels are setup correctly, the final step is to print them. In this final step, you'll learn how to print labels from excel.
We recommend printing just one page of Labels to start. This way you can make sure that the Labels are printing properly before you print all the other Labels.
If for any reason you decide that you don't want to print your own Labels, or you're having trouble printing them, please give us a call. We can print the Labels for you, and we'll ship them to you!
Other Helpful Resources
How To Print Address Labels From Excel FAQs
Will "Or Current Resident" fit on to the Avery 5160 (30 on a sheet) address labels?
Yes it will.
Do you provide a crib sheet for printing mailing address labels from excel?
Yes we do. When we format the list for you and email you the PDF we also email you a 'how to' document. If you get stuck, you can always call our Customer Service folks who will help you: 1 866 306 8674.
How do you ship the printed labels if I decide to get you to print and ship them to me?
We ship printed labels by USPS Priority Mail and this takes 2-3 days to get to you.
Can we help you?
Call us on 866 306 8674
for free expert assistance.
Or try our
It's 5:27pm in Phoenix & we're in the office!