Freight Forwarder Email List
Get a Freight Forwarder Email List to start connecting with Freight Forwarders anywhere in the USA. Our accurate, targeted Email Lists include all the important contact information that you need in order to Mail, Call and Email top decision makers at these businesses.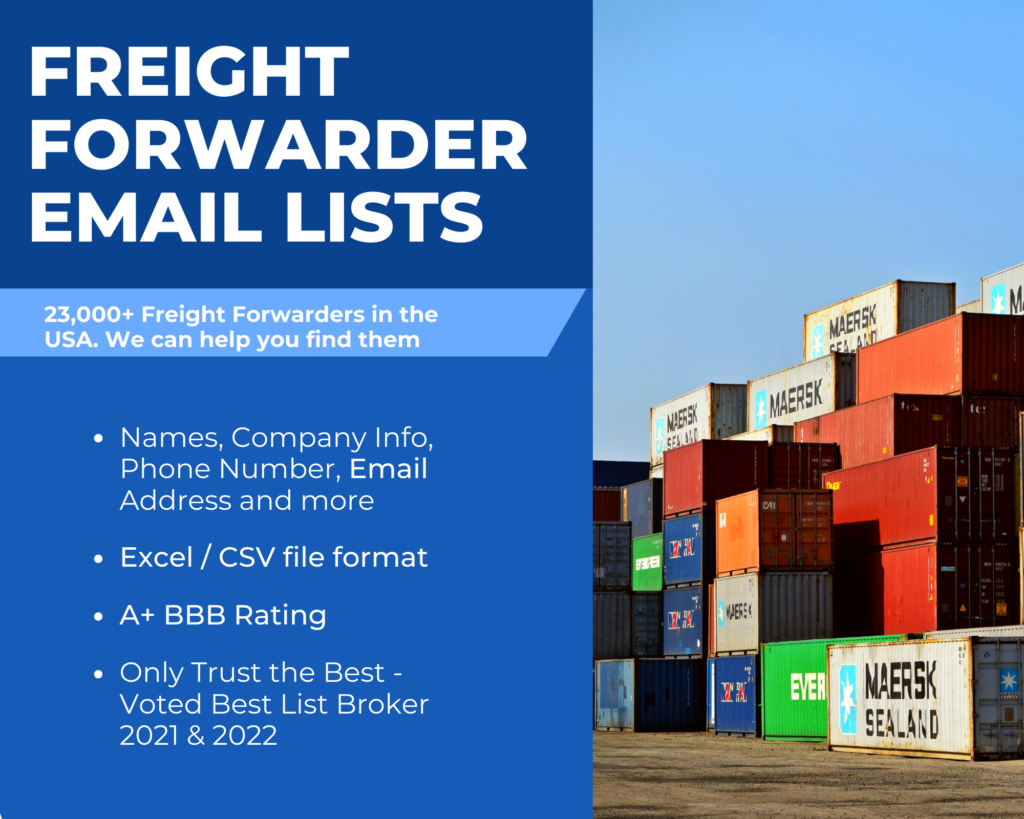 What is a Freight Forwarder?
Freight Forwarders are global logistical services that transport products from place to place.
According to Wikipedia, a Freight Forwarder is :
What is a Freight Forwarder Email List?
A Freight Forwarder Email List is a marketing list, that includes all the important Contact Information for Freight Forwarder businesses in your target market.
What is the SIC Code for Freight Forwarders?
The SIC Code for Freight Forwarders is SIC 4731003.
On LeadsPlease, you can quickly find Freight Forwarding companies.
Search for the SIC Code using keywords or the SIC Code. When you see 'Freight Forwarding' companies appear in the search results box, you will select it (so it's highlighted in blue), then click 'Add+'.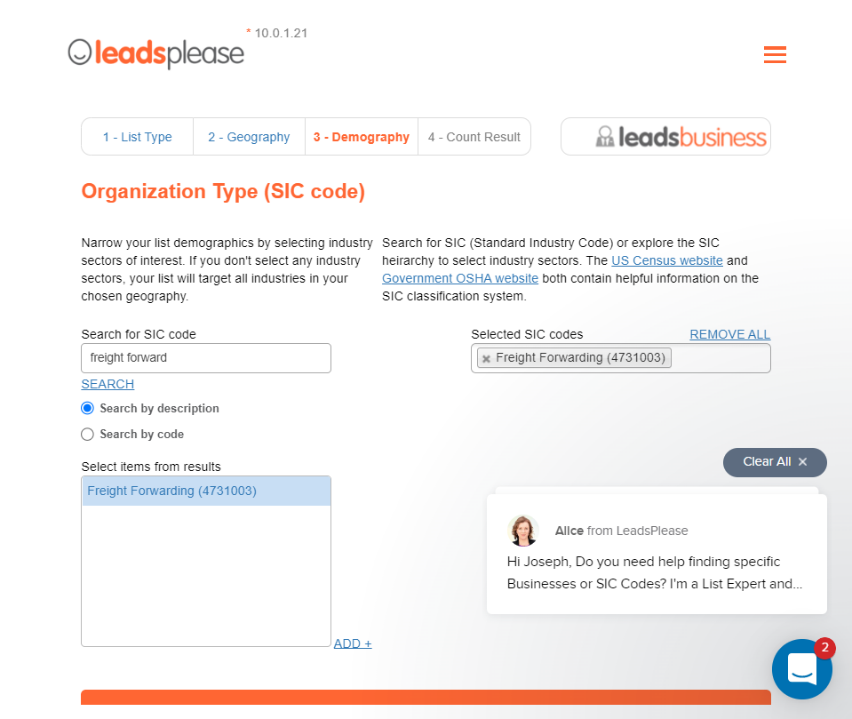 What are some SIC Codes (Standard Industry Codes) that I should use, if I want to reach Freight Forwarders and other related businesses?
Below is the SIC Code for Freight Forwarders and other businesses that are in similar industries.
| | |
| --- | --- |
| SIC Code | Description |
| 4731003 | Freight Forwarder |
| 874266 | Logistics |
| 473101 | Transportation Consultants |
| 509901 | Exporters (Wholesale) |
| 451202 | Air Cargo Service |
What information can I include on my List?
Contact's First & Last Name
Business Name
Mailing Address
City
State
Zip code
Business Telephone Number
SIC Code
SIC Description
Business URL / Website
Woman Owned
Small Business
Home Office
Annual Sales Volume
Years in Business
Number of Employees
Location Type: Headquarter, Branch, Single
Public / Private Ownership
Franchise / Not a Franchise
Chain / Not a Chain
Email Address
What are some examples of Freight Forwarders?
Here are some examples of Freight Forwarder businesses:
I've never purchased a List before; can you help me?
Don't worry, we can help ! If you're not sure what to do, or you have questions, please give us a call and List Experts will be happy to help.
1 866 306 8674
What format do the lists come in?
We offer 3 Easy-to-Use List Formats:
CSV File Spreadsheet
PDF Mailing Label Format
Printed Peel & Stick Mailing Labels

This is my 1st Time Buying a Mailing List; can I see a Sample of my List before I place an order?
Yes! We want you to be completely happy with your List.
A great way to ensure that you're completely happy, is for you to see exactly what you're getting before you place your order.
Please call us or email us to get a Sample Business List today!
We'll email the Sample List to you; then you can take your time to go through it and make sure it's correct, and exactly the way you want it to be before you place your order.
Why Should I Buy a LeadsPlease List ?
Business Email Lists are not all the same.
There are a lot of lead generation companies out there, but not all of them are 'great'. Some companies don't update and maintain their business databases often, and sell old, out of date information that can severely impact your marketing campaigns.
If you need an accurate, up to date list of emails, choose a trusted lead generation business, like LeadsPlease.
LeadsPlease Lists can help small business owners boost their marketing efforts without breaking the bank. Our affordable, accurate lists lead to increased email signups, new subscribers, and more website visitors.
But don't just take our word for it. Business.com has voted LeadsPlease as being the Best Overall List Broker for the last 2 years in a row! If you want an accurate sales leads list, more sales leads and new customers, choose LeadsPlease Lists.
| | |
| --- | --- |
| LeadsPlease Business Mailing Lists | You Win |
| 90+% Accuracy Guarantee | Only trust the Best! Voted Best List Broker service, by Business.com ! |
| 10+ Million Businesses in the USA | Find the right prospects using the largest database |
| 3 easy-to-use list formats | Don't worry; we guarantee that you'll be able to use your list or we'll give you your money back! |
| Instant Download | Save time; get your list in minutes |
| Happy Customers | 1000's of Happy Customers use LeadsPlease to grow their businesses. Start growing your business too! |
What deliverability can I expect?
If you purchase a Business mailing list from LeadsPlease, you can expect a 90+% deliverability.
So, if you send your direct mailers to the list within 30 days of purchase, we guarantee that 90+% of your mailers will be delivered to the correct address.
You can read more about our Deliverability & Accuracy on our Data Quality page.
If I purchase a Business Email List, what sort of conversion rate can I expect?
When it comes to email campaigns, conversion rates vary greatly.
Conversion rates vary depending on a lot of factors but for the most part, they are impacted by the following:
Landing Pages
Signup Forms
Accurate Contact List
Professional Templates
Strong Call to Action
How accurate are your Business email marketing list?
Although we go to great lengths to frequently clean and update our business databases, they will always contain a small number of undeliverable mailing addresses & emails, out of date information and data errors that are beyond our control.
On average, when you purchase a business email database, you can expect to receive the following accuracy rates from your marketing strategy:
Business Mailing Address & Demographics – 90+%
Contact's Email Address – 80+%
What information is included in a Business Email List?
Business Name
Telephone Number
Mailing Address
SIC Code & Description
Demographics if available (ex. URL, Number of Employees, Annual Sales Volume etc)
Contact Name
Contact's Title
Contact's Email Address
How do I get a list of Freight Forwarders?
Select the geographical area that you want to include. (ex. Zip Code, City, County, State or using a radius around your address.)
Select the type of Businesses that you want to include (ex. Freight Forwarders, Transportation Services etc)
Order online with a credit card & Download your Business to Business Mailing Lists!
Other Helpful Resources
Happy Customers Growing Their Businesses with LeadsPlease Mailing Lists
Can we help you?
Call us on 866 306 8674
for free expert assistance.
Or try our
It's 5:27pm in Phoenix & we're in the office!