Construction Company Email Lists & Mailing Lists
Construction Company Email Lists & Mailing Lists can benefit all those businesses that wish to sell their products and services to other businesses in the construction sector.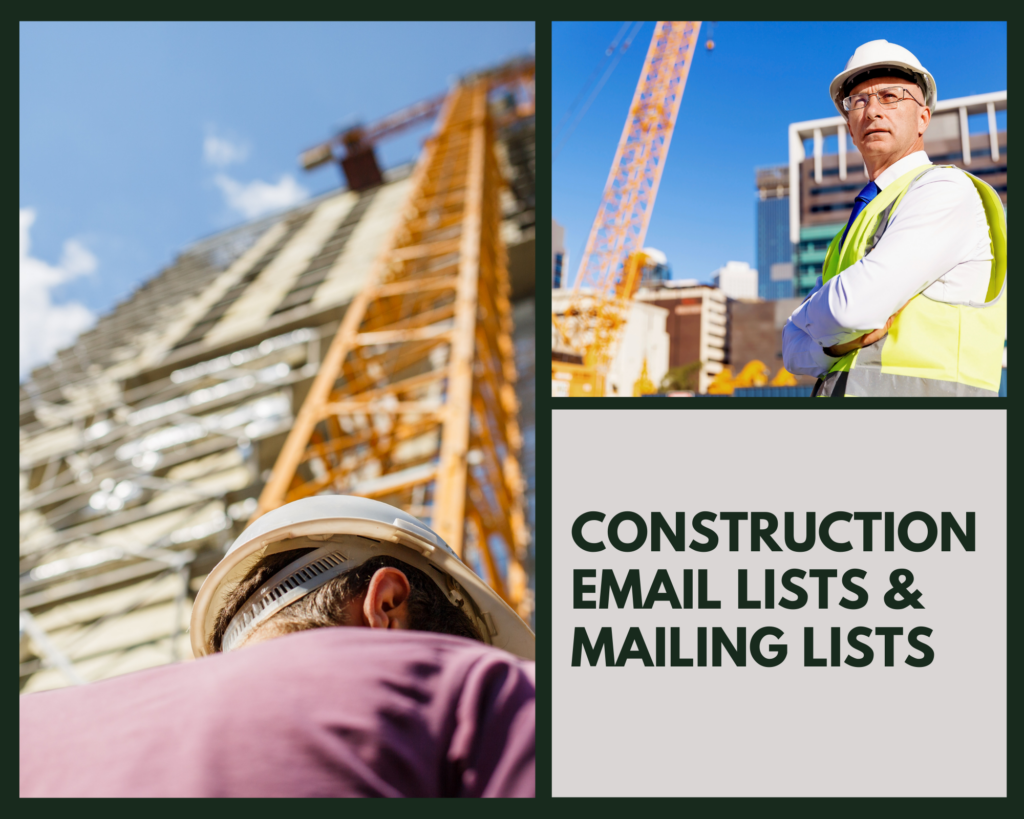 About our Construction Company Mailing Lists
Our Construction Company Mailing Lists can benefit all those businesses that wish to target prospects in the construction sector. We provide the highest quality direct mail & email lists of some of the top construction companies in the industry, making sure you are able to promote your products or services to the very best in the construction sector.
Why you need a Construction Company Mailing List
By the year 2020, the worth of the global construction market is expected to exceed $10.3 trillion (PRNewswire). Most of these companies are constantly searching for new ways to reduce costs, enhance productivity, and streamline operations.
If you provide products or services to the Construction sector, you need Construction Company Mailing Lists to achieve your marketing & sales goals. Our Construction Company Mailing Lists are highly accurate and up-to-date, and include all the information you need to reach a top decision maker, at Construction companies across the USA.
What is included in your Construction Company Mailing Lists?
We can help you find 'all Construction companies', or narrow down to specific types of Construction companies, and by demographics:
Construction Company Name
Telephone Number
Mailing Address
Contact Name
Contact Title (ex. Owner, President, Manager etc)
Email Address (where available)
URL
Employee Size
Annual Sales Volume
Chain / Not Chain
Franchise / Not Franchise
What types of Businesses can benefit from getting a list of Construction Companies?
Businesses offering the following construction-related products and services can benefit from using our construction mailing lists:
Architects
Real estate brokers
Interior designing firms
Construction and mining equipment rental services
Construction surveying companies
Electrical contractor
General contractors
Painting services
Roof insulation services
Plumbing services
Do the Construction Company Email Lists include at least one Email Address for every Business?
Yes. You can choose to add Email Addresses to your List.
We offer 3 List Options:
Direct Mail
Direct Mail + Email
Direct Mail + Email where available
For more information & pricing please visit our  Business Email Lists page.
How much does a Mailing List cost?
These types of Mailing Lists start at $99.75 for up to 500 leads. The more leads you buy, the cheaper the cost per lead. Please visit our Mailing List Pricing page for more information.
How do I get a Mailing List?
You can purchase your mailing list on our website or with a List Specialist over the phone. On average, it takes about 5 minutes to build and purchase a Mailing List.
Other Helpful Resources
Construction Company Mailing Lists FAQs
What is an SIC and how does it work for finding businesses?

SIC stands for Standard Industrial Classification and was designed by the US Government, like a library index code to group businesses by their activities. You can search for the SIC by code or description of activity. For example: Bridge and Tunnel Construction has an SIC of 1622 and you can also find this category by simply searching for the description construction.

If I search for an industry and get a 6 digit SIC number for example, will I get more records than a smaller SIC of say 2 digits?

Not necessarily because larger SIC numbers indicate a narrower search within this industrial group. For example: Construction Specialty Contractors has an SIC of 17 and is top of this particular SIC group meaning you will get all the records in this group. Construction Site Cleanup is SIC 1799021 and the number of digits indicates that it is only a part of the Construction Specialty Contractors group (see the same leading number 17). You will only get records that relate to this narrower search within the Construction Specialty Contractors group.

I need to reach a specific decision maker at all the construction companies in my state. How do I do this?

In our business database on the demography page there is a select 'title'. There are many selects to choose from like Purchasing or Sales Executive etc. If you cannot find the title you need contact us https://www.leadsplease.com/contact. our researchers will help you find what you need. This is a 'free' no obligation' service.
Can we help you?
Call us on 866 306 8674
for free expert assistance.
Or try our
It's 5:27pm in Phoenix & we're in the office!