CFO Email List & CFO Mailing List [2023] | Chief Financial Officers
A CFO Email List & Mailing List connects you with Chief Financial Officers all across the USA. Beat your competition and start marketing to CFO's today.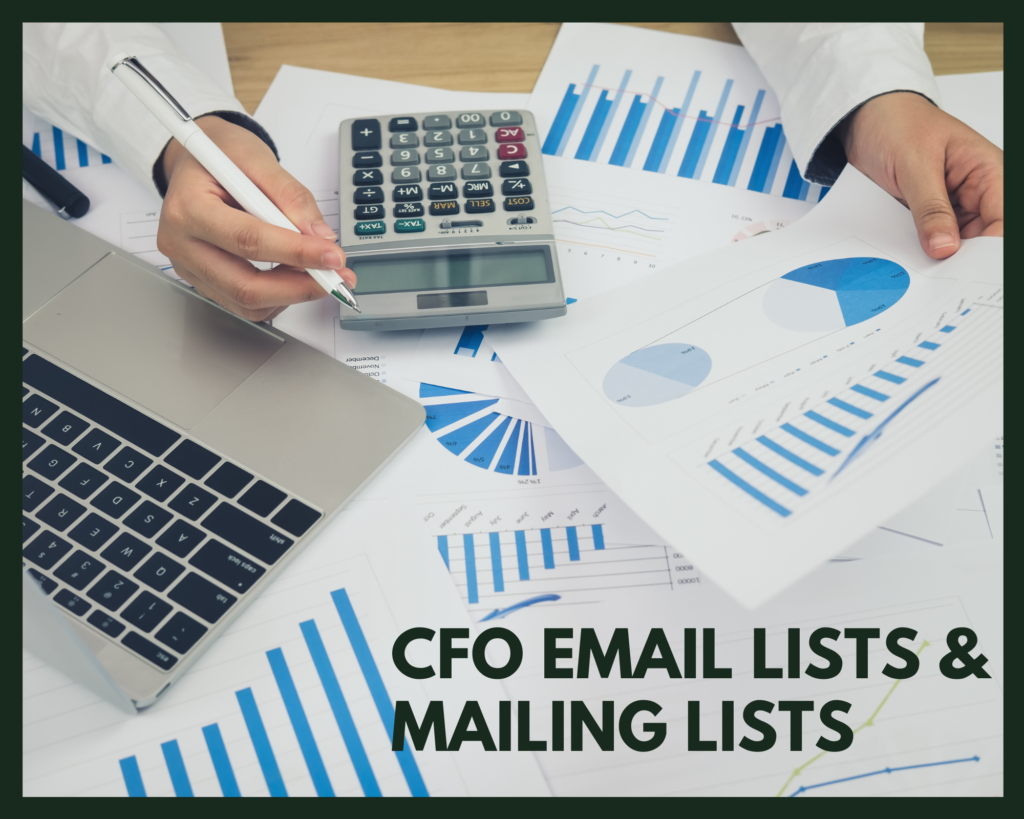 What are CFO Email Lists & Mailing Lists?
These are marketing lists, that include important contact information for Chief Financial Officers anywhere in the USA.
Mailing List
A CFO Mailing List includes the CFO's Business Name, a Contact Name and Title for the CFO or someone who works at the CFO's office, as well as the Phone number and postal mailing address. These types of CFO database lists are used for telemarketing and/or direct mail marketing campaigns.
CFO Email Address List
A CFO Contact List includes similar contact information, with the addition of the CFO's email address. This List of Chief Financial Officers is essential for email marketing to new CFO prospects.
List Format
The lists come in a .csv / .xls spreadsheet format, which you can open in Excel or upload into most sales and CRM programs.
An accurate, high-quality CFO Email List can help connect you with Chief Financial Officers who are likely to need your products and services. If you beat your competitors and connect with them first, you can end up gaining new, lifelong customers.
What is a CFO?
According to Oracle NetSuite, a CFO is the Chief Financial Officer. The CFO is responsible for managing the top level Finances for a business.
Are all CFO's Accountants?
Most CFO's will have an extensive Accounting background and experience, however, not all CFO's are Accountants.
Can I get a List of CPA's, Accountants & Accounting Services?
Yes! If you're looking to advertise to CPA's, Accountants and Accounting Services, we can help you. Please Contact Us for more information and a quote.
Can I get a CEO Email List?
Yes! Please Contact Us for more information and a quote.
Can I get a List that includes all the C-Level Executives for various businesses?
Yes! You can choose to add one or more C-Level Executives to your List.
CEO (Chief Executive Officer)
CFO (Chiefl Financial Officer)
CTO (Chief Technology Officer)
CMO (Chief Marketing Officer)
What other Professional Job Titles can I search for?
If you need to send direct marketing to different Professionals and decision makers, we've got you covered. You can create a custom list that includes one or more Job Titles.
Here's a list of our most popular Job Titles that you can select from:
Most Popular Job Titles
CEO
President
Owner
CTO
Manager
Director
Business Development
HR
How many CFO's are there in the USA?
According to Zippia, the Career Expert, there are 131,815+ CFO's in the USA. We can help you find them!
What other Countries can I target?
We have CFO Email Lists for CFO's across the world. We have contact database Lists for the USA, Canada, Europe, Africa, Australia and Asia.
How much does it cost to get a Mailing List of CFOs?
A CFO mailing database starts at $99.75 for 500 Leads. Please visit our Mailing List Pricing page for more information.
Lists differ in cost, depending on the type of information you need and the number of sales leads you get.
How much does it cost to get a Chief Financial Officer Email List?
Our CFO Email Lists are extremely cost-effective and start at $250.00 for up to 500 leads.
Please Contact Us to get a quote.
Business Email Lists
| # RECORDS | PER RECORD | TOTAL |
| --- | --- | --- |
| 500 | 50c | $ 250.00 |
| 1000 | 30c | $ 300.00 |
| 2500 | 28.5c | $ 712.50 |
| 5000 | 27.1c | $ 1,355.00 |
| 10000 | 25.7c | $ 2,570.00 |
What does a CFO Email & Mailing List include?
CFO Email Lists & Mailing Lists Include all or some of the following:
CFO's Full Name
Job Title
Business Name / Company Name
Postal Address
City
State
Zip code
Business Telephone Number
SIC Code / NAICS Code
SIC/NAICS Code Description
Business URL / Website
Woman Owned
Small Business
Home Office
Annual Sales Volume
Years in Business
Number of Employees
Location Type: Headquarter, Branch, Single
Public / Private Ownership
Franchise / Not a Franchise
Chain / Not a Chain
Email Address (if selected, and where available)
Are all your email lists "opt-in"?
Yes! All our email database lists include email addresses for people who have opted to receive email marketing messages, and email advertisements from businesses like yours.
So, this means that if you purchase a LeadsPlease Email List, all of the people on your list will be people who consented to receiving email marketing messages.
Do your email leads go through a validation process?
Yes! You might expect all email list service providers to use a validation software program to clean and update their email addresses. However, not all services clean and update their email databases as often as they should.
LeadsPlease cleans and updates all our email addresses frequently throughout the year, and crucially, one last time at the point of purchase. This process ensures that you receive the most up-to-date, and high-quality email leads possible, so you can concentrate on boosting sales and driving conversion rates.
Why is it important to use valid email addresses?
If you want your message or advertisement to be as successful as possible, one of the first steps is to make sure the email addresses that you're sending to are Valid.
With LeadsPlease Email Lists, you're guaranteed to receive 80+% valid Business Emails.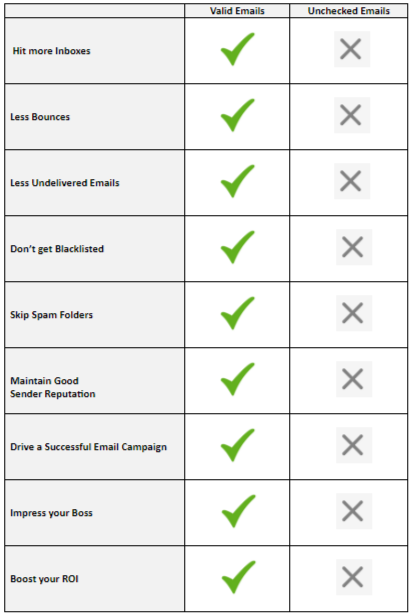 Does the CFO Email List include Phone Numbers?
Yes! All the CFO Email Lists include a phone number for the business. The phone number that's included on your list, will be the phone number that the business provides as their main phone number.
What types of Businesses can benefit from marketing to CFOs?
Businesses offering cost & time saving products and services to CFOs can benefit from marketing to Cheif Financial Officers:
Financial Reporting Software
Audit Services
Compliance Systems
Treasury & Capital Structure Allocation
Seminars
Workshops
Employment Agencies
Business Conventions
Higher Education Programs
Investment Services
Real Estate
Healthcare
What return on investment can I expect?
Calculating your return on investment (ROI) should be an integral part of your marketing efforts. So, be sure to start tracking your marketing needs' expenses as you go, and save what works and ditch what doesn't.
According to a recent article by HubSpot, the average ROI from email marketing is $36 for every $1 spent!
How accurate are the email lists?
Although we go to great lengths to frequently clean and update our lead generation databases, they will always contain a small number of undeliverable mailing addresses & emails, out of date information and data errors that are beyond our control.
On average, you can expect to receive the following accuracy rates:
Business Mailing Address & Demographics – 90+%
Contact's Email Address – 80+%
Can you help me with my email marketing?
We can definitely help you get a top-quality, up-to-date sales leads list that you can use to send your email advertisements to.
However, we do not actually deploy or send out the emails to your target audience on your behalf. We are not an 'email service'. You would be in control and responsible for designing and sending your email campaign.
What deliverability can I expect if I send a direct mailer to CFOs?
If you purchase a Business mailing list from LeadsPlease, you can expect a 90+% deliverability.
So, this means that if you send your direct mailers to a LeadsPlease b2b marketing list within 30 days of purchase, we guarantee that 90+% of your mailers will be delivered to the correct address.
You can read more about our Deliverability & Accuracy on our Data Quality page.
Why Should I Buy a LeadsPlease List ?
CFO Email Lists are not all the same.
There are a lot of lead generation companies out there, but not all of them are 'great'. Some companies don't update and maintain their business databases often, and sell old, out of date information that can severely impact your marketing campaigns.
If you need an accurate, up to date list of emails, choose a trusted lead generation business, like LeadsPlease.
LeadsPlease Lists can help entrepreneurs and small business owners with their business needs, and boost their marketing efforts without breaking the bank. Our affordable, accurate lists lead to increased email signups, new subscribers, broader outreach, and more website visitors.
But don't just take our word for it. Business.com has voted LeadsPlease as being the Best Overall List Broker for the last 2 years in a row! If you want an accurate sales leads list, more sales leads and new customers, choose LeadsPlease Lists.
LeadsPlease Business Mailing Lists
You Win
90+% Accuracy Guarantee
Only trust the Best Data Experts! 
Voted Best List Broker service, by Business.com !
10+ Million Businesses in the USA
Find the right key decision-makers using the largest database
3 easy-to-use list formats
Don't worry; we guarantee that you'll be able to use your business owners database list or we'll give you your money back!
Instant Download
Save time; get your list in minutes
Happy Customers
1000's of Happy Customers use LeadsPlease to drive successful marketing strategies and grow their businesses.
Start growing your business today!
Can you help me with my direct mail campaign?
Yes! We also offer full-service Direct Mail, where we print and mail your direct mailer for you.
For more information and pricing, please visit our Direct Mail and Direct Mail Postcards pages.
What format do the lists come in?
After you place your order online, you'll be able to download your mailing list in a .csv file format, directly from the website.
We offer 3 Easy-to-Use List Formats:
CSV File Spreadsheet
PDF Mailing Label Format for printing on Avery® 5160® Labels
Printed Peel & Stick Mailing Labels

How accurate are your CFO Email Lists?
Our CFO Mailing Lists are 90+% accurate, and our CFO email database is ~80+% accurate.
For the most successful results, we recommend that you implelement your marketing strategies as close to the List purchase date as possible.
When do CFO's information get added to your contact Lists?
New CFO's are added to our database once the new business has publicly formed.
Their information is compiled from new business filings, daily utility connections, new business press releases, corporate website information, financial public reports, and from thousands of U.S. Yellow Page directories.
Do you offer social media profile information?
Yes we do! Please Contact Us for more information and pricing.
How current are your CFO lists?
Our Lists are extremely current and accurate.
We update our database as new information becomes available. In most cases, updates are performed daily.
On average, we add ~ 700 new businesses to our database every day.
Can I get a Sample List before I purchase a List?
Yes! Please Contact Us to get a free sample list.
Why should I choose LeadsPlease Lists?
We only use the most reliable sources to support our lead generation lists. This allows us to offer the most accurate data and contact information to our customers, so they can feel confident about their marketing efforts.
So, if you're looking to increase conversions, boost sales, and gain new potential clients, you should only trust the most reputable lead broker, with years of experience.
Get your List from Business.com's voted " Best List Broker "
How do I get a CFO Email List?
ther Helpful Resources
Happy Customers Growing Their Businesses with LeadsPlease Mailing Lists
CFO Email List FAQs
Do the CFO Email Lists come from validated data sources?
Yes. All our b2b data is compiled using 100's of verified and trusted sources. Sources include new business filings, daily utility connections, new business press releases, corporate website information, financial public reports, and from thousands of U.S. Yellow Page directories.
Do the CFO Lists include phone numbers?
Yes.
Will the List include Fax Numbers?
No, sorry, we do not provide fax numbers. It is illegal to send advertising via fax in most states.
Do you replace invalid email contacts?
Yes! We will replace or refund you if you experience any Invalid or Hard Bounces.
Can we help you?
Call us on 866 306 8674
for free expert assistance.
Or try our
It's 5:27pm in Phoenix & we're in the office!