Grow Your Business with a Targeted Direct Mailing List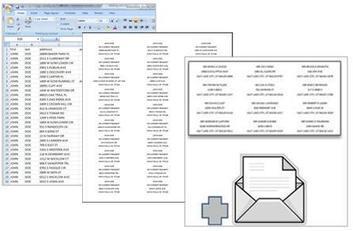 3 Easy-to-Use Mailing List Formats
Excel, CSV file spreadsheet
PDF File: Ready-to-Print Mailing Label Format
Pre-Printed Peel & Stick Mailing Labels
Quality, Up-to-Date Information
Updated every 30 days; USPS approved software
95+% Consumer list accuracy guaranteed
93+% Business list accuracy guaranteed
.
The Best-Reviewed Mailing List Company
.
FAQs
Who is LeadsPlease? What do you do?

We are a well-established US-based list broker & marketing data company.
We specialize in helping you find the right people or businesses for your mailing list campaigns, so that you can build a successful mailing list, quickly and at an affordable price. Please see About Us.

Why should I trust LeadsPlease?

We have an A+ rating with the Better Business Bureau and have thousands of happy customers, and positive testimonials to share.
We are very serious about security & privacy and take great pride in the quality of our data & customer service. Thousands of people and businesses have trusted us already- you can too!>
Our Customer Service team is here to help you and answer any questions or concerns that you have; please call us, chat with us, or email us – we'd love to hear from you!

Why should I use LeadsPlease Mailing Lists?

Do you need to grow your business? Do you have difficulty understanding and using our competitors' systems? Do you need accurate, up-to-date mailing lists in a hurry? Do you need a list company you can trust both now and in the future? There are many more reasons you should trust us with your mailing list needs!

What types of mailing lists do you offer?

We offer 1000's of different types of lists. Please visit the Mailing Lists Index page to see a list of our most popular Consumer and Business Mailing Lists.

What geographical areas can I target?

You can target the whole USA, or narrow down by State, County, City, Zip or a radius around an address.

Do you sell Email Lists?

Yes! We sell Email Lists. Please visit the Email Lists page for more information.

Where is your data from?

We are partnered with several of the largest list compilers in the USA, so we are able to provide our Customers with the largest selection of lists. The lists are compiled using thousands of resources including: Birth Records, Purchase Information, Public Filings, Online & Offline marketing surveys & Census data.

Do you offer a 'Guarantee'?

Yes! We guarantee the deliverability and accuracy rates listed below, when you use your list within 30 days of purchase and address your mail appropriately & with accordance with USPS standards. We will refund you the cost of the undeliverable addresses that exceed the above published rates, when you use your list within 30 days of purchase and address your mail appropriately. Please keep hold of all returned mail as proof of undeliverable addresses. We do not reimburse for printing or postage costs. Consumer Mailing Lists – 95+% Deliverability/Accuracy
Business Mailing Lists – 90+% Deliverability/Accuracy
New Mover Mailing Lists – 95+% Deliverability/Accuracy
New Homeowner Mailing Lists – 95+% Deliverability/Accuracy

Is your website secure and safe?

Yes. We take security very seriously. For added security we do not store your credit card details after a transaction.

Do I have to subscribe or pay a monthly fee to use your services?

No! There are no subscriptions and no monthly fees. You only pay for the data that you need, and that's it.

How much does a mailing list cost?

We provide extremely competitive pricing, but our prices do vary from list to list and depend on the quantity of leads that are purchased. For a detailed pricing breakdown please see the Mailing List Pricing page.

What is the minimum order cost?

Please see our Pricing page for minimum order sizes and price breakdowns.

Can you help with Google Ads + Facebook Ads?

Yes our sister company Greater Leads can set up and manage high-performance Google Ads, Facebook Ads & SEO lead generation & sales campaigns for you.

What forms of payment do you accept?

We accept all major credit cards and payments to info@leadsplease.com via PayPal.

When I buy a mailing list, what do I actually get?

You will receive your list in CSV file format. The list consists of all the names and mailing addresses of the individuals or businesses that you want to target.

How will I receive my list?

You will be able to download your list from the website, after placing your order. The list is downloadable in CSV file format. If you need a different format, please visit the Mailing List Formats page.

How long does it take to receive my list?

On average, it takes about 2 minutes to download your list.

How many times can I use my purchased mailing list?

The mailing lists on our website are purchased for one-time use. If you need to mail to the list more than once, please give us a call to place an order for a Multiple Usage License. 1 866 306 8674

Do you offer Printing and Mailing Services?

Yes! We can print and mail your Direct Mail campaign for you! Please visit our Print and Direct Mail pages for Pricing and more information.

Do you have a Mailing List API?

Yes! Please visit our Mailing List API page for more information.

Do you have an enterprise marketing platform for franchises and dealer networks?

Yes! Please visit our All In One Marketing Platform page for more information.

Can you help me suppress my list of Customers from the new list I want to get?

Yes! We can suppress your current list of customers from any new list that you want to get. Please call us about our Suppression Services.

Can I get a sample list?

Yes we can provide a free sample list. Contact us here:https://www.leadsplease.com/contact

Do I get phone numbers with the list?

To allow us to release phone numbers for consumer lists you will need a SAN which exempts you from the Federal Do Not Call Regulations. Business list come with phone numbers.

Can I purchase a list even if it doesn't have 1000 records in it?

Yes you can. The cost will be the same as the minimum price.

Can I save a list that I have built?

Yes you can. There is an option on the count result page to save your list.

Can I get the names and addresses printed on labels?

Yes you can. Contact us here for this service: https://www.leadsplease.com/contact

How does your list fit USPS compliant software? i.e. CASS approved?

Our data is updated frequently and on each update various USPS sourced tools eg CASS, DPV & NCOA are used to cleanse the data for optimum accuracy and deliverability.

How long does it take to get preprinted labels?

We usually print and ship the peel and stick labels the same day as we receive the order. We ship by USPS Priority Mail and this usually takes 2-3 days.

What are opportunity seekers?

They are people who have shown an interest in a business opportunity multiple times and probably work from home.