New USPS "Have A Ball" Forever Stamps For Direct Mail
Posted on 2017-05-16
by Jenny
New USPS "Have A Ball" Forever Stampswill be available for direct mail on 6/14/17.
Add The Personal Touch To Direct Mail
Jump out from the crowd and hand write the recipient's name.
Hand fix a memorable stamp and add a splash of color.
Help Your Customers To Remember You
Use an eye-catching design.
Don't confuse or overwhelm your customers with lists of services/products that you offer.Focus on one or two.
Use a clear call to action like "Call Today" or "Stop By In May".
Try the new textured stamps "Have A Ball".
Finally, check out these marketing tips from LeadsPlease!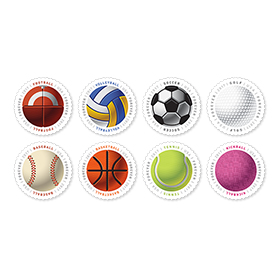 Most of all, we all love ball games!
Can we help you?
Call us on 866 306 8674
for free expert assistance.
Or try our
It's 5:27pm in Phoenix & we're in the office!