Direct Mail Marketing – Why You Should be Doing It
Use Direct Mail Marketing for your business.
According to a recent study by Catamount Marketing, "How your customers want to be contacted", 32+% of people surveyed, prefer to be contacted by Direct Mail over all other forms of communication.
32% of customers prefer to be contacted by direct mail
Include direct mail as part of your overall marketing strategy
Target with an accrate up to date mailing list
Design an eye catching mail piece
Mail and make it personal
Track the success of your campaign
Repeat your mailing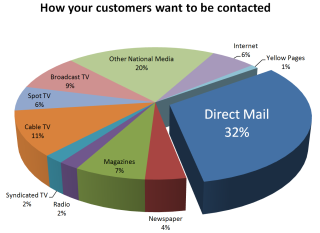 Can we help you?
Call us on 866 306 8674
for free expert assistance.
Or try our
It's 5:27pm in Phoenix & we're in the office!