How To Reduce Returned Direct Mail
Posted on 2011-09-08
by Jenny
How to reduce returned direct mail
Tips:
Make sure your delivery address is USPS compliant.
Validate mail to addresses
Include apartment or suite numbers
Add "Or Current Resident" to delivery addresses
Always use USPS preferred place names
LeadsPlease shows how to reduce returned direct mail
Update mailing lists every 30 days because fresh, accurate data reduces returned mail.
Use USPS approved software validates delivery addresses so that fewer mail pieces are returned.
USPS approved software ensures use of preferred place names
Add "Or Current Resident" to mailing list
Ask for advice on how to create a USPS compliant mail piece
Get 95% accuracy/deliverability guarantee with consumer mailing list from LeadsPlease and 90% accuracy/deliverability guarantee with business mailing lists
Go to www.leadsplease.com and see how easy it is to build your mailing lists on line and be USPS compliant .
LeadsPlease can format your mailing list into a 'print ready for labels' PDF for free.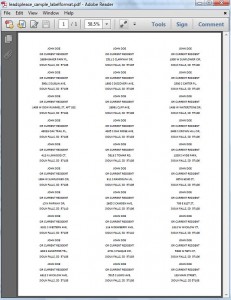 Save time and money by making sure you address your mail piece correctly.
Always use an accurate updated mailing list because old data will have addresses that are no longer valid.
Add 'Or Current Resident' to consumer mailing lists in order that the USPS leaves that mail at the delivery address.
Be USPS compliant with the mail piece design for example leave enough space for the postal indicia, the address block and the postal bar code.
Have questions? Call us +1 866 306 8674
Can we help you?
Call us on 866 306 8674
for free expert assistance.
Or try our
It's 5:27pm in Phoenix & we're in the office!